Rick Brown

Help Desk Technician (Staff Only)

Jason Butcher

Building Tech

Cathy Fillwock

District 1:1 Coordinator

Stephanie Garey

Systems Coordinator

Eric Jewell

Assistant Network Supervisor

Parker Nevicato

Chromebook Technician

Leon Spencer

Building Tech

David Sweeney

Building Tech

Herb Wansitler

Technology Architect
Summer Projects 2016
about 1 year ago
#1601 - All building fiber was replaced district wide and all network brought up to 10 Gigabytes.

#1602 - All building switches were replaced in coordination with fiber to bring the district network up to 10 GB.
#1603 - New Banner Lab and Classroom developed at High School East campus. The lab has 15 PC units with Adobe Cloud and a classroom with a cart of Chromebooks. New whiteboards and a smart board were installed in the classroom
#1604 - Update former banner classroom at High School East Campus. The old banner classroom had new whiteboards and a smart projector installed. The old Mac lab was retired and converted into a collaboration room with two PC's and a printer.
#1605/#1606 - Renovate 114C and 214C at East Middle School/West Middle School to create Blended Learning Labs. Install wall mounted racks for 36 Chromebooks (2 – 18 units) in each room for a total of 72 Chromebooks.
#1607 - Security Update - Replace security server and install new security cameras at McGrath, Indian Hill, Reid, Cook, and Mason.
#1608 - 1:1 Pilot Fifth Grade - Prepare Chromebooks for fifth grade deployment.
#1609 - Pilot Tech Ex Cart at Mason with Rugged Asus C202 Chromebooks.
ASUS C202 Rugged Chromebook

#1610 / #1611 - MS Math ACC Study Chromebook Carts - Prepare carts of Chromebooks for the Math Department at East and West Middle Schools.
#1612, #1613, #1614 - 1:1 Take Home Pilot 3rd/4th Grades - C740 Chromebooks
#1612 - 4th Grade Mason
#1613 - 3rd Grade Brendel
#1614 - 4th Grade Reid
#1615, #1631 - Chromebook Deployment for Rooms 605, 629 High School West, Acer Chromebook C-740 take home pilot for one period (629 Social Studies), new whiteboard and smart projector, teacher station reconfiguration.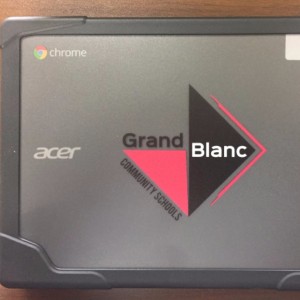 #1616 - Chromebook Deployment for Room 303 High School East, Acer Chromebook C-740 take home pilot.
#1617 and #1618 - 1:1 Pilot MS Level - Prepare 190 Chromebooks for single student deployment for Team 3, 7th Grade, East Middle School, and 190 Chromebooks for single student deployment for Team 6, West Middle School.
#1619 - Teacher Desktop Replacement – Replace 381 desktops, every current desktop at the elementary level. (Buildings include Anderson, Brendel, Cook, Indian Hill, Mason, McGrath, Myers, Perry Center, Reid)
#1620, #1621, #1622, #1634 - K-2 Acer touch screen and iPad Pilot. Some classrooms receiving all iPads, some receiving all touchscreens, some receiving a mixture. Four classrooms total involving, Myers, Brendel, Cook and Indian Hill.
#1623 / #1624 - Switch out retired Samsung Chromebooks with Acer Chromebooks in Room 624C, at High School West Campus and at McGrath Elementary. Replace cart at McGrath Elementary.
#1625 - Prepare teacher devices for Transformation Orientation and distribute prior to June 13th.
#1626 - West HS Office - Update former assessment office for West High School Collaboration Room. Add projector and whiteboard on south wall. Make sure phones, computers, printer are updated. Remove all old equipment. Room to be patched and painted. One wall has major repair due to old paneling. Network and electrical to be updated. Update network and power throughout main office space and special education conference room 508. Place a set of 8 Chromebooks in a wall mounted rack.
#1628 / #1629 - East / West Middle School Lab 101 Update. Laptops (32) from Labs 114C and 214C will need to be removed and go to Room 101. HP Chromebooks will be retired. Additional lap tops can be used as replacements across the district.
#1630 - Perry Verb Lab Power Upgrade. Six floor plugs positioned with table top openings will be installed along with Thread towers to allow power for uncharged or battery deficient devices.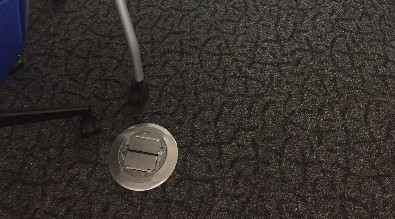 #1632 - Install Apple TV units and provide teacher iPad in Art Rooms at both East and West Middle Schools.
#1633 - Purchase Chromebooks and Install Racks in the German Classroom and ITV Room. Ten Chromebooks to go into 12 Unit wall rack in HS East ITV Room and 12 in 12 unit wall rack to German Room 408. German will need 12 pair of headsets (ear and mic) that are compatible with the Chromebooks.
#1635 / #1636 - Set-up desktops for collaboration rooms in Rooms 100 and 113 at High School West.
#1638 - Install 5' x 10' whiteboard in Room 238, Middle School West, sidewall. Install new wall mounted projector and remove existing projector.
District Technology Advisory Team
8 months ago
DISTRICT TECHNOLOGY ADVISORY TEAM
Supporting Teaching and Learning - Engaging, Innovating, Leading
The District Technology Advisory Team is composed of four high school staff, four middle school teachers, and one representative from each elementary. The District Media Specialist, department chairs, technology staff, and administrators from each level will also be invited to attend the D-TAT meetings. Team members will be appointed using input from the building principals. The D-TAT team will meet monthly with the Technology Architect. The purpose of D-TAT will be as follows:

Gather current information [concerns, staff development needs, success stories, creative ideas, etc.] from buildings.




Share the state of our technology at each of our buildings.




Serve as a planning group to create and carry out a vision and direction throughout the district that complements our mission, objectives, and beliefs.




Serve as the communicators of our district technology and curriculum vision.

Assist in the development of technology policies. [Such as BYOD]

Provide instructional technology tips that can be shared with your buildings.
DTAT Meeting Dates - 2017-2018
All meetings will be located at High School West Campus in the new Center for Innovative Learning (Flex Zone Room).
9/25/2017
10/30/2017
11/27/2017
1/22/2018
2/26/2018
3/26/2018
5/21/2018
All meetings are held from 4:15-5:15pm.
1:1 Device Information Page (Grades 5-12)
8 months ago
During the 2017-2018 school year, Grand Blanc Community Schools will provide each student in grades 5-12 an Acer Chromebook for school and home use.
Click HERE for help updating the Chrome OS of your device.

Click HERE for information on Charging your Chromebook.
Click HERE for the Pay Schools Link for Insurance Payment via check or Credit/Debit Card.
If you are purchasing insurance for 2 or more of your children, please assign the insurance to your oldest student and then enter your other student's name(s) and ID number(s) in the comment box on the payment screen.

Click HERE to enjoy a Chromebook Care Video.
Click HERE for a video displaying Digital Citizenship
Chromebook Program Key Points
Students will be assigned a Chromebook device at the beginning of the school year.

The device will come in a hard protective case.

Devices will be kept for 3-4 years or until the student graduates. It is the intention to have students retain their original Chromebook each year while enrolled in Grand Blanc Community Schools.*

Families will be able to purchase optional insurance each year to help defray the cost in the event of accidental breakage.

Teachers have been trained by our technology consultants (Communications by Design out of Ada, MI) in how to use the device effectively within the curriculum as one of the

many

tools

they teach with. Please understand that our teachers and students will learn and grow in the use of the Chromebooks in the classroom as the year progresses.

*Students do not have a separate right to a device. It is the District's intention to issue the same device barring abuse, breakage, theft, etc.
District Acceptable Use Policies
1:1 Device Handbook - Program Details
Acer Chromebook
C-740
Please click below for an electronic version of the manual.
Internet Options for Low Income Families
Learning can occur "Any Time, Any Place, Any Way, Any Pace," but to continue learning in the home, high speed reliable broadband is crucial. With more devices in the hands of students, districts have shifted away from traditional approaches to homework. According to the Federal Communications Commission (FCC), seven out of ten teachers assign homework that requires high speed internet access, yet in some communities as few as one in three students have home internet connectivity. When students do not have internet access at home, the gap widens in terms of what students can do. Equitable access to the internet is essential to maximize lifetime learning and success.
Families can access www.everyoneon.org to learn what internet options are available in their communities, including mobile hotspots. The website also lists information on discounted computers for qualified families as well as local technology training opportunities. In the coming year, the FCC's Lifeline program will begin to include internet access. Information on the updated program will be forthcoming.
Free WiFi Hotspots in the Grand Blanc Community*
*Not a comprehensive list
Big Boy Restaurant, 11432 S Saginaw St, (810) 694-6617
Biggby Coffee, 2223 E Hill Rd, (810) 771-3600
Coffee Beanery, 12745 S Saginaw Rd, (810) 694-9227
Culvers, 9090 Holly Rd, (810) 771-7755
Firehouse Subs, 11501 S Saginaw St, (810) 603-7205
McDonalds, 9293 Holly Rd, (810) 953-1495
McDonalds, 5543 Fenton Rd, (810) 234-7231
McDonalds, 12237 S Saginaw, (810) 694-7460
McDonalds, 2330 W Grand Blanc Rd, (810) 655-8169
McFarlen Library, 515 Perry Rd, (810) 694-5310
Leo's Coney Island, 6238 S Saginaw Rd, (810) 606-0500
Panera Bread, 6224 Saginaw Rd, (810) 606-1960
Sophia's Kitchen, 11395 Saginaw St, (810) 695-8555
Starbucks, 11355 Saginaw St, (810) 603-3402
The Coffee Beanery, 12745 S Saginaw Rd, (810) 694-9227
Tim Horton's, 11334 S Saginaw St, (810) 603-0629
Tropical Smoothie Café, 2383 Hill Rd, (810) 953-2233